Electronic firing has changed the fireworks industry and opened up incredible possibilities for both the backyard shooter and the professional display company. Maybe you've already made the switch, or have decided you'd rather stick with how you've always done it for old time's sake. Many of the smaller companies or lone shooters might equate e-firing with spending thousands of dollars on controllers and modules. Believe it or not, you can give your show the look and feel of a professional operation without breaking the bank, thanks to the Ratel. ​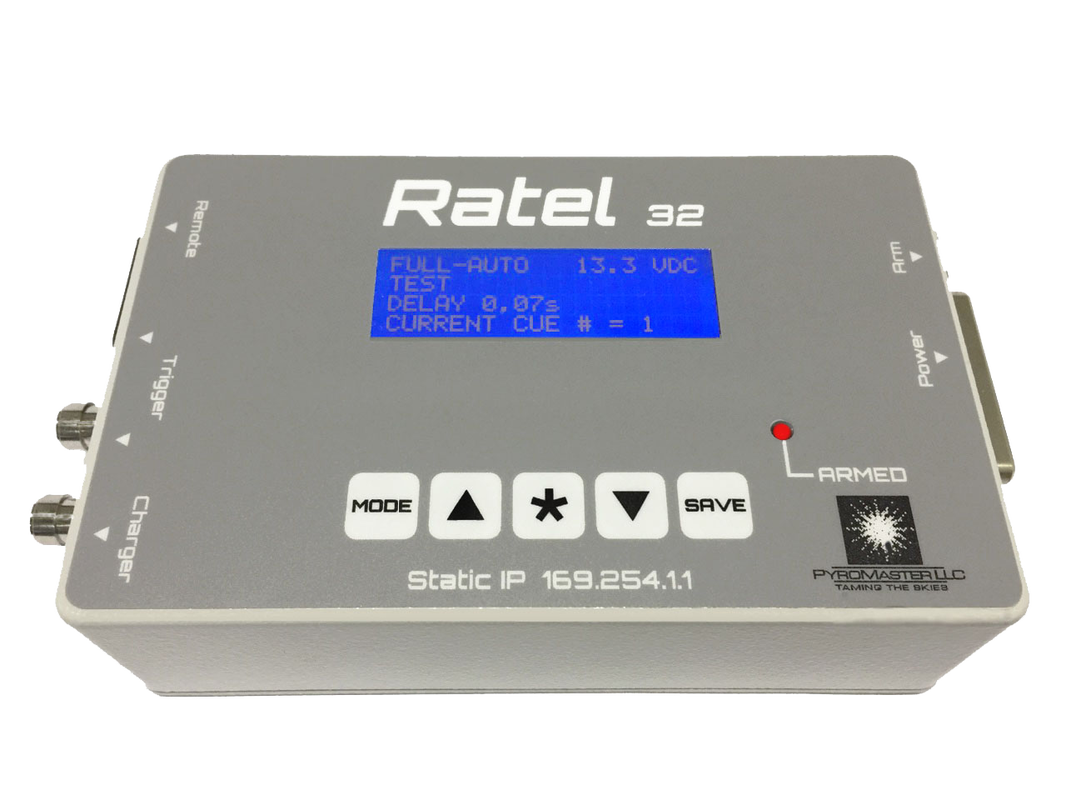 We started with combining the controller and the module. It makes things simpler and a whole lot more cost effective. Then we took out the need for an expensive software by making the time code text-based and streamlined. This can be imported from show design software or entered through a simple web browser with an ethernet cord. You can even make last minute changes right in the field with no laptop or internet connection.
The Ratel features 32 cues of digital firing, with 5 unique firing modes and a firing resolution of .01 second. Whether you like the thrill of manual mode or the consistency and precision of full auto, there is a mode for you. You can even link multiple Ratels to have multiple shots per cue. If you already have an existing controller or full system, use a Ratel for your last cue (or any cue) and have an entire finale scripted to your liking. A pyromusical has never been more attainable for the everyday shooter.
This is a professional-grade system. With a heavy aluminum die cast enclosure and military-spec components, the Ratel is water and shock resistant and will last for years. No need for an extra case to keep it protected. And a Ratel can be triggered with a simple electrical pulse. If you're in a pinch, use a 9V battery! Trigger remotely with duplex wire or upgrade to wireless arming and firing for an additional cost.
The Ratel gives you a controller, module, and continuity tester at a fraction of the cost of other professional systems. Take your show to the next level!
For more information, check out the product page or email info@pyromasterllc.com.